The social, medical and political stakes are very high here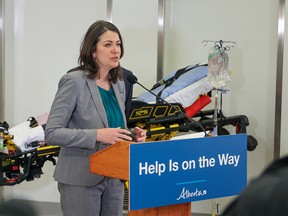 Article content
Calgary's EMS response times are not good. The median arrival in October took about 11 minutes.
Article content
In Edmonton, Fort McMurray and other communities, the time was eight minutes, pretty much on provincial target.
Article content
In 10 per cent of cases, a Calgary ambulance took 22 minutes to arrive. The target for the worst response time is supposed to be 12 minutes.
This looks even worse for Calgary when we realize that for six months, AHS in Calgary has tested a plan to use non-medical vehicles, often privately owned, to transfer patients who don't need attention from paramedics.
But much of Calgary's EMS crisis lies in the hospitals. EMS teams can get trapped for hours before "off-loading" a patient.
Calgary actually has five more day-shift ambulances on the road than two months ago, yet the response times are still way over target.
Article content
All this shows how complex and connected the problems are.
They were thrashed out at a Wednesday news conference with Premier Danielle Smith, Health Minister Jason Copping, and AHS special administrator Dr. John Cowell.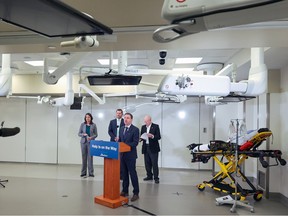 It might seem trivial that the big announcement was expansion of "alternative transportation" from pilot communities to the whole province. Companies and individuals will be invited to bid on providing service.
This is a solid idea. Getting a grip on the health-care dilemma requires literally dozens of specific actions aimed straight at trouble spots, and they aren't always traditional.
Health officials say a real ambulance will always respond to a 911 call. The alternative rides — vans or other larger vehicles with some special equipment — will only be used to transport people between hospitals, home after treatment, to out-of-hospital appointments, or to care centres.
Article content
AHS expects this service to take over about 15 per cent of EMS trips. When the program is in place across the province, 70 more daily ambulance trips will be freed up.
Province aims to free-up hard-pressed paramedics from some hospital transfers

Braid: New AHS overseer says he has full power to act fast on big problems

Next-generation insulin pumps could be available under Alberta program starting Friday
Under Dr. John Cowell, the lone administrator, AHS appears to be acting with unusually intense focus.
The social, medical and political stakes are very high here. Smith promised results and she has to show them or pay the electoral price.
The United Nurses of Alberta are dubious about what's going on. Union president Heather Smith noted Wednesday that the government has put up some social media ads saying "Help is on the Way."
Article content
What help is that? she asked in a letter to Copping, adding that nurses have heard nothing. "Please let us know immediately, preferably today, what actions are in fact contemplated."
Some of it was outlined in the news conference. Paramedic staffing is 18 per cent higher than three years ago. After being combative with medical staff in the early Jason Kenney era, the government "is looking at any and every option to find more staff."
They want more doctors to triage in emergency wards. One of the biggest logjams is the time between first intake by a nurse and actually seeing a doctor.
Paramedics will also be allowed to treat patients without taking them to hospital. Some non-urgent 911 calls will be shunted to 811.
Central to all this is Cowell, the former head of the Health Quality Council. He appears to have wide authority to drive the changes.
Article content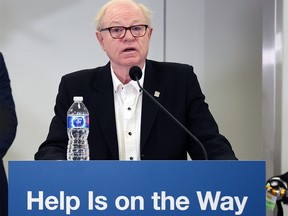 "Today was a great example of issues identified and solutions at the direction of Dr. Cowell," the premier said.
"We're going to continue to work with Dr. Cowell and rely on his expertise to drive changes moving forward."
If two decades of Alberta health-care upheaval have taught us anything, it's that magical unitary solutions don't work.
Demonizing and firing a pack of managers, centralizing, decentralizing, closing and blowing up hospitals — those big system changes just destabilize.
One expert I've spoken to says the creation of provincewide AHS in 2008 would probably need 30 years to settle in, after which it would likely work very well.
Meanwhile, the problems need to be fixed one by one. This is so unexciting that governments rarely get down to it with much determination.
And yet, after all her bluster about firings and upheavals, it appears to be exactly what Smith is doing. Life is full of surprises.
Don Braid's column appears regularly in the Herald
Twitter: @DonBraid

link