Article content
The number of MRI machines available to patients in Windsor and Essex County will effectively double thanks to two announcements on Tuesday.
Article content
Patients at Erie Shore HealthCare will soon have its first hospital magnetic resonance imaging scanner, while Windsor Regional Hospital is getting funding for its third MRI machine.
Article content
The Leamington hospital's leadership announced new provincial funding will cover the MRI's operational costs, including supplies, maintenance and staffing going forward. 
The hospital's charitable foundation will fundraise for the actual cost of acquiring the machine, said Erie Shores HealthCare CEO Kristin Kennedy.
"This investment will allow our communities to have timely care in the right place, at the right time and close to home," Kennedy said Tuesday. 
"This announcement is a first step in our larger diagnostic imaging renewal project and that project will see significant upgrades in our critical testing equipment."
Article content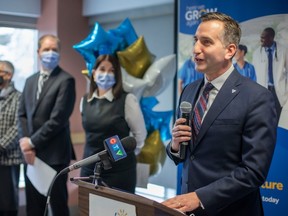 The machine will help improve patient care, decrease in-patient stays and help minimize emergency room wait times, Kennedy said. Patients needing an MRI currently have to be transferred to other regional hospitals to receive the medical imaging test, which can disrupt their care.
"I'm so proud of the exceptional work done every day by the entire team at Erie Shores HealthCare," said MPP Trevor Jones (PC—Chatham-Kent—Leamington). "This project is the culmination of the efforts made by a diverse team of caring professionals and this investment will improve the lives of countless people in our communities." 
"The fact that we can access services in our own community speaks volumes for the people that live here and choose to live here," said Leamington Mayor Hilda MacDonald.
Article content
The Erie Shores Health Foundation will fundraise for the capital cost of the MRI machine and the needed renovations to the hospital, which Kennedy estimated could cost upwards of $3 million. Kennedy said the project timeline is one to two years, pending a review of the infrastructure needs of the hospital and procuring the machine.
The foundation will kick off a fundraising campaign in the new year for the hospital's diagnostic imaging program.
Meanwhile, Windsor Regional Hospital received approval for operational funding for its third MRI machine, expected to be purchased and up and running in nine months to a year. The new scanner will be added to the existing machine at the Ouellette campus.
"We thank the government for its commitment to expanding access to this vitally important diagnostic service for our region and for thousands more patients every year," hospital CEO David Musyj said in a statement. 
"Windsor-Essex is a growing population and as we move toward the new acute hospital system in Windsor-Essex it becomes ever more urgent that we increase our MRI availability to our community."
With the third machine, the Windsor Regional Hospital will be able to perform 5,000 more MRIs each year — approximately the current wait list for individuals needing an MRI within 28 days.
While the hospital's other MRI machines operate about 18 hours per day, the new machine will initially be funded to run eight hours per day. The machine will help reduce wait times and prevent interruptions in service during machine downtime.

link