Dublin, Oct. 19, 2023 (GLOBE NEWSWIRE) — The "Neonatal Critical Care Equipment Market Size, Share & Trends Analysis Report By Type (Thermoregulation Equipment, Phototherapy Equipment, Neonatal Monitoring Devices, Respiratory Devices), By End-use, By Region, And Segment Forecasts, 2023 – 2030" report has been added to ResearchAndMarkets.com's offering.
The global neonatal critical care equipment market is experiencing significant growth, driven by various factors and trends. Here are some key highlights from the market report:
1. Market Size and Growth: The global neonatal critical care equipment market is expected to reach USD 4.8 billion by 2030. It is projected to register a Compound Annual Growth Rate (CAGR) of 7.5% from 2023 to 2030. This growth is attributed to the significant number of neonatal deaths and preterm births, along with financial support for equipment research and procurement.
2. Advanced Monitoring and Sensing Devices: Breakthroughs in monitoring and sensing devices have revolutionized neonatal care. These advancements enable faster and more precise measurements of neonatal physiological parameters, leading to the development of modern devices such as ventilators, imaging systems, and advanced wireless monitoring systems. Technological progress is driving the transformation of neonatal critical care.
3. Impact of COVID-19: The COVID-19 pandemic had a negative impact on the market initially, causing supply chain disruptions and difficulties in procuring raw materials and medical device transportation. However, regulatory policies were relaxed during the pandemic, allowing access to advanced equipment in Neonatal Intensive Care Units (NICUs). A NICU survey showed a negligible prevalence of COVID-19 in NICU patients.
4. Market Segmentation:
Based on the type, the "other" segment, which includes soothing tools and the Bilicheck system for noninvasive risk assessment of neonatal jaundice, held the largest market share in 2022.
The thermoregulation equipment segment was significant in 2022, with devices that help keep neonates warm, improving their health.
Hospitals were the dominant end-users in 2022, offering superior care to patients. The presence of well-trained teams and well-equipped facilities supports the growth of neonatal care equipment implantation in hospitals.
The Asia Pacific region held the largest market share in 2022, driven by high demand for neonatal critical care equipment in clinics and hospitals due to the high neonatal mortality rate, especially in countries like India.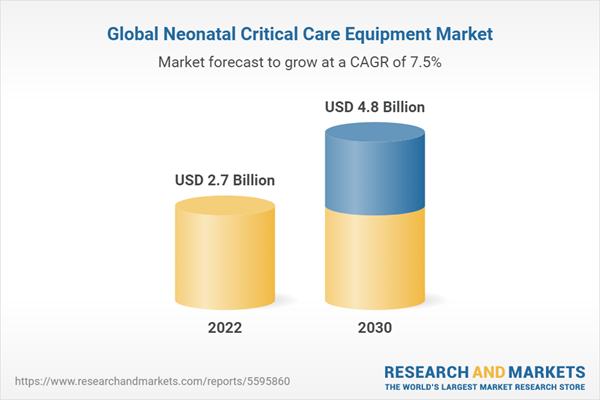 Market Dynamics
Market Driver Analysis
Increasing research for product innovation
Rising number of preterm and low-weight births
Rising technological advancements
Market Restraint Analysis
Product recalls
Stringent regulatory framework
Key Attributes:
| | |
| --- | --- |
| Report Attribute | Details |
| No. of Pages | 168 |
| Forecast Period | 2022 – 2030 |
| Estimated Market Value (USD) in 2022 | $2.7 Billion |
| Forecasted Market Value (USD) by 2030 | $4.8 Billion |
| Compound Annual Growth Rate | 7.5% |
| Regions Covered | Global |
Key Players Include:
Cardinal Health
Dragerwerk AG & Co. KGaA
Koninklijke Philips N.V.
GE Healthcare
Medtronic
Vyaire
BD
Utah Medical Products, Inc.
Natus Medical Incorporated
Ambu A/S
Inspiration Healthcare Group plc
Atom Medical Corp.
Fisher & Paykel Healthcare Limited
Masimo
Phoenix Medical Systems (P) Ltd.
For more information about this report visit https://www.researchandmarkets.com/r/f8uxjj
About ResearchAndMarkets.com
ResearchAndMarkets.com is the world's leading source for international market research reports and market data. We provide you with the latest data on international and regional markets, key industries, the top companies, new products and the latest trends.

link