The B.C. billionaire has a track record of donating to health-care infrastructure projects.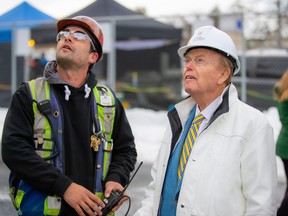 Article content
B.C. business titan Jim Pattison is making a $30 million donation toward the redevelopment of Royal Columbian Hospital, the largest donation ever made in Fraser Health.
Article content
The Royal Columbian is in the second phase of a $1.49 billion redevelopment project that would boost its capacity by 50 per cent to 675 beds and improve care to some of the province's most critically ill patients.
Article content
Pattison's donation will go toward the acute care tower, which will be christened the Jim Pattison Acute Care Tower once it's completed in 2025.
This is the latest gift bestowed by the B.C. businessman, who has a long track record of generosity toward health-care infrastructure.
"As the company has grown, we've been able to support hospitals across the country," Pattison told Postmedia News following an event outside Royal Columbian on Wednesday.
He said he wanted to direct his largesse to hospitals and health-care facilities because "that's a place a lot of people, whether you're old or young or rich or poor, sooner or later people at some time may need a hospital." 
Article content
In 2017, Pattison donated $75 million for the future St. Paul's Hospital on the False Creek flats, the largest donation in Canadian history by an individual to a single medical facility.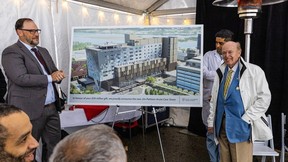 Pattison joins thousands of other donors who have stepped up to support the Royal Columbian redevelopment project.
As the referral hospital for cardiac, trauma, high-risk maternity and neonatal intensive care in the region, the hospital serves one-third of B.C.'s population, said Jeff Norris, CEO of the Royal Columbian Hospital Foundation. 
"Royal Columbian Hospital has the most critical set of treatment options of any hospital in the Fraser Health region including one of the busiest cardiac centres in all of Canada, if not B.C."
Article content
Construction on the new acute care tower started in 2020. It would include a new emergency department with its own imaging unit and a larger maternity, pediatric and neonatal intensive care unit.
The tower would also include more patient rooms — many of them built for single patients — and feature advanced medical equipment and technologies, including a $5-million, robot assisted surgery, and state-of-the-art imaging technology.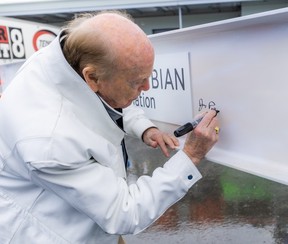 The Jim Pattison Group, which spans grocery, auto and media industries, is the second largest privately owned company in Canada, with annual sales of $12.7 billion.
Earlier this year, the Burnaby Hospital Foundation announced a $5 million matching gift from Pattison toward its campaign to upgrade Burnaby Hospital.
In 2021, Pattison donated $4 million toward an $8 million fundraising campaign to purchase diagnostic medical equipment for the Jim Pattison Outpatient Care and Surgery Centre in Surrey.
Adopt-A-School: Burnaby alternative school needs help feeding hungry kids

link