We could boost taxes, but politicians lack the spine for that. So let's increase the 'disguised tax': the Ontario Health Premium.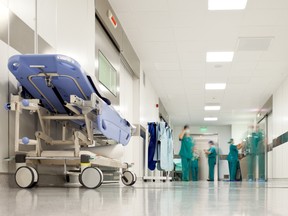 Article content
My wife's recent one-week hospital stay highlighted part of the problem with Ontario's health-care system. Her emergency surgery was repeatedly postponed but not due to a lack of surgeons or operating rooms.
Article content
Instead it was delayed due to a shortage of nurses and support staff needed for a fully functioning operating room. Luckily, she was eventually transferred to another hospital location where staffing was less of an issue, and she came home the following morning.
Clearly, a major problem is underpaid and overworked nurses and, in some cases, insufficient pay for doctors. There is one answer to this problem: more money.
The answer is easy but the solution is more difficult. One part of the solution is to cut bloated administrative bureaucracies in our hospitals and to reallocate the savings to sorely needed equipment and personnel.
That part won't be easy since reforming overgrown administrations is as hard as herding cats. Nevertheless, a government-driven initiative to identify and eliminate administrative duplication, triplication and waste should be able to free up hundreds of millions of dollars that could be better spent elsewhere.
Article content
The easier part of the solution is to simply raise taxes. This would be fairly straightforward except for the fact that politicians lack the courage to do so. They avoid the label "tax and spend" like the plague.
But there is one clever part of Ontario's income tax system that could be amended to indirectly raise more revenue. As you'll probably recall from filling out your annual income tax forms, the final step in the Ontario filing process is to calculate your Ontario health premium to be added to your tax payable.
Since the OHP is not identified as a tax, maybe politicians will have the courage to increase it. Currently, it generates roughly $4 billion a year. Thus, a doubling of this "premium" should generate another four billion for health care.
Article content
Ideally, the OHP should be scrapped. As noted by others, unlike regular income tax thresholds, OHP thresholds have never been changed to implement indexation since its inception in 2004.
Also of note is the regressive nature of the OHP. Once you reach the $900 limit, you pay no more "premium" (i.e. – tax) no matter how much income you have. This means lower income earners pay a higher percentage OHP than those making over $200,000 a year.
Fairness dictates that the OHP be eliminated and that ordinary income tax rates be amended to generate the equivalent revenue currently raised by the OHP. This would result in a more progressive and equitable means of funding our healthcare system.
But since politicians are taxaphobic, a fair and transparent overhaul is not likely to happen if it, in any way, is characterized as a tax. Thus, the only realistic solution is to indirectly raise the revenue through the "premium" — which we'll again be told is not a tax.
Article content
Until we learn to elect leaders and legislators with spines, the only practical stopgap measure is to double the contribution levels for the OHP. Ideally, those in power would have the courage to at least not cap the premium payment for those making over $200,000 and insist that the wealthy pay their fair share. This should result in even more billions of dollars to finance our health-care system.
Before the pandemic, we were already in crisis and COVID-19 just exposed and highlighted the underlying problems. Nurses are disrespected and many are burned out and leaving the profession. Hospital support workers also face the same risks.
Most of us cherish our public health-care system but, if things don't change, we may be forced into an American-style hodgepodge of privately insured, overly administered clinics, hospitals and practitioners.
All that's needed from you, the average taxpayer, is an additional annual contribution of a few hundred dollars more to ensure you get timely care. If we take pride in our medical care system, now is the time to show it and pony up.
David Martin writes for Medium at daretobeaverage.medium.com.
link